Dahunsi Oluwanifemi popularly referred to as NifemiBuilder, grew up in a very remote community where access to quality education seemed unachievable, fortunately for him, his parents had access to education and saw the importance, so he had access to internship opportunities. After enough accolades for being smart and being different, he asked himself multiple questions like "if I could access internships opportunities, why can't the rest of my community access to do so too". Such questions led  him to discover why his close friends in his community began engaging in hard drugs rather early on. Casually hanging out with street urchins, popularly known as "Agbero" and having heard a lot of stories of the cliche endings of were people who take that route are geared towards, he knew he needed to do more than wish for a solution.
At age 13, Oluwanifemi, now officially a teenager, started a quest to find solutions to the issue he discovered in his community, he began asking questions, carrying out research and perusing several web pages on Google just to learn if there was a concrete reason as to why the issue seemed a norm. He found the answer to his questions and finally knew how he will drive change.
NifemiBuilder found out that most teengaers who turn to drugs, violence etc do so because of lack of quality education. He found some overwhelming stats that an estimated 10.5 million children have little or no access to Quality Education in Nigeria and some 260 million globally do not go to school worldwide ( that's a pool of the next potential Bill Gates, Mark Zuckerberg, Nelson Mandela, or even Antonio Guterres.).
With these figures outstanding and definitely shocking, it dawned on him that quality education is also one of the reasons why unemployment is a prevalent issue in his community and country(Nigeria) at large.
He also realized that there was a necessity for a diverse and targeted approach to tackle lack of Quality Education by giving young people access to digital skills, in turn bridging an ever widening gap between young people and opportunities. With this he founded his organisation, Teens World Empowerment (TWE) which he uses to provide solutions for issues he discovered in his community. 
An Organization Founded To Drive Solutions
TWE is a youth-led, non-profit organisation that aims at addressing the prevalent issue of unemployment amongst African youths through skill acquisition and by creating mentorship opportunities for youths across diverse backgrounds, TWE seeks to support youths in getting ready for the future of work.
Since Teens World Empowerment was founded It has empowered over 8,000 teenagers and recently concluded online 21st century soft skill acquisition programs that reached over 800 teenagers and reached close to 9000 teenagers via virtual event's with a view to equipping them for post COVID-19. TWE was also a major partner in Imaginact's recent skill acquistion program were over 300+ teenagers were trained on how to design.
Value Through Work
Through his works, Oluwanifemi has earned himself a lot of vlaue, He walks in spaces and people recognize value.The 17 years old changemaker has been recognized as a Nominee of the SME100 25under25 awards, Campus Ambassador, International Model United Nations, Ambassador at AgilityCMS, Teen Leader with Teenation Africa, Ashoka Young Changemaker and more.
Oluwanifemi has also been featured in several publications including the Vanguard, Impact Africa, NigerianNews Online amongst others for his efforts as a young changemaker in Nigeria. He is a Scholar at the IIT and recently, he was the youngest speaker at the Innovate, Inspire, Influence conference, an initiative of Salt Talks Africa.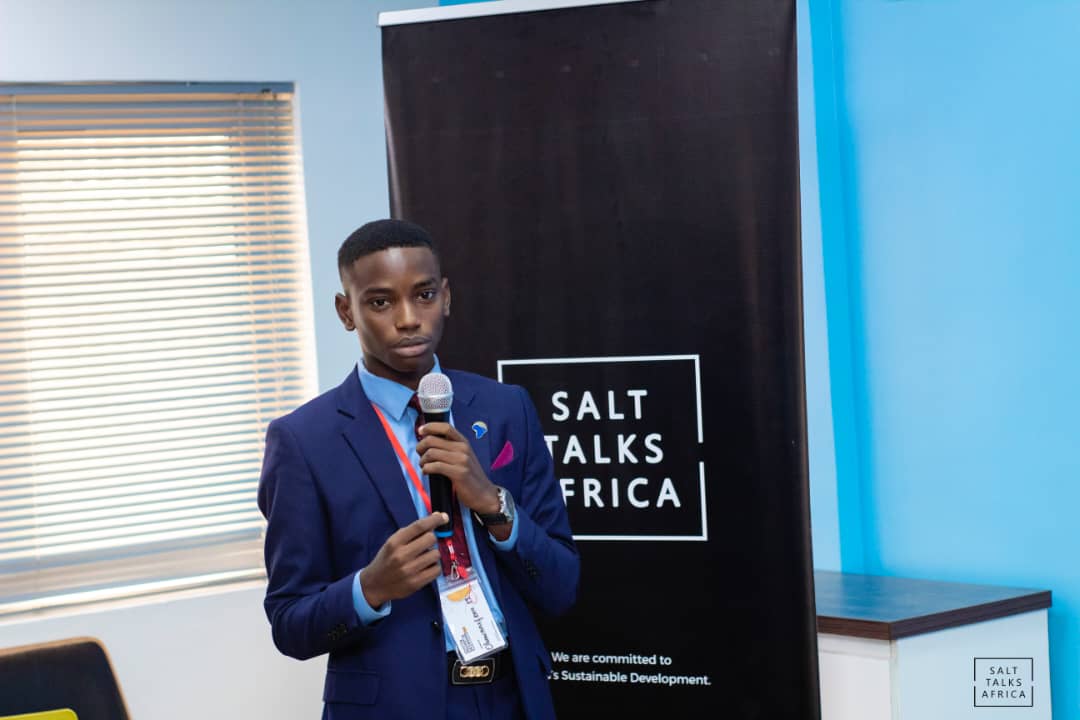 Oluwanifemi envisions a world where sustainability and synergy is key and peace always is the Mantra. He aims to build an 'army' of empowered youths who would build their communities and disrupt economies for good and you can be part of the army too. You can join the army by visiting his organisation website twempowerment.org.
As we normally do, we asked Oluwanifemi to drop some words for young changemakers and he left this impact filled words" You must be consistent, passionate, committed and hard-working! True! But "You will only go as far as you can dream" So Dream big! ". It is obvious that these words are words forged out of his experience in changemaking.
Beyond his work in the Educational Sector. Oluwanifemi represents brands for a living and works with organizations to fulfill sustainable & flexible marketing plans and corporate social responsibility structures. Nifemi can be reached on Instagram, Facebook, Twitter and LinkedIn in case you want to partner with this awesome changemaker or learn a few or more things from his journey as a young changemaker.
And remember to do what NifemiBuilder says, dream big!!! Because you will only go as far as you can dream!