Taking actions that bring about gender equality is very important. Not only because it's important for a sustainable future and helps with economic growth and development, but because women and girls are humans and every human deserves to be equal, irrespective of gender. In this post today, we'll be sharing 33 quotes about gender equality you should know.
Here are 32 quotes about gender equality you should know:
1.) Men are from Earth, women are from Earth. Deal with it. – George Carlin
2.) Human rights are women's rights, and women's rights are human rights. – Hillary Clinton
3.) "Comrades, there is no true social revolution without the liberation of women." – Thomas Sankara
4.) "I measure the progress of a community by the degree of progress which women have achieved." — B. R. Ambedkar
5.) "Men, their rights, and nothing more; women, their rights, and nothing less." — Susan B. Anthony
6.) When women do better, economies do better. – Christine Lagarde
7.) raise up my voice—not so that I can shout, but so that those without a voice can be heard… We cannot all succeed when half of us are held back. – Malala Yousafzai
8.) We need to reshape our own perception of how we view ourselves. We have to step up as women and take the lead. – Beyoncé
9.) "Whatever women do, they must do twice as well as men to be thought half as good. Luckily, this is not difficult." — Charlotte Whitton
10.) "Of course I am not worried about intimidating men. The type of man who will be intimidated by me is exactly the type of man I have no interest in." – Chimamanda Ngozi Adichie
11.) In the future, there will be no female leaders. There will just be leaders. – Sheryl Sandberg
12.) "The problem with gender is that it prescribes how we should be rather than recognizing how we are. Imagine how much happier we would be, how much freer to be our true individual selves, if we didn't have the weight of gender expectations." – Chimamanda Ngozi Adichie
13.) It took me quite a long time to develop a voice, and now that I have it, I am not going to be silent. – Madeleine Albright
14.) I do not wish women to have power over men; but over themselves. – Mary Shelley
15.) "I am a feminist. I've been female for a long time now. I'd be stupid not to be on my own side." — Maya Angelou
16.) "Achieving gender equality requires the engagement of women and men, girls and boys. It is everyone's responsibility."
— Ban Ki-moon
17.) I love to see a young girl go out and grab the world by the lapels. Life's a bitch. You've got to go out and kick ass. – Maya Angelou
18.) Feminism isn't about making women stronger. Women are already strong, it's about changing the way the world perceives that strength. – G.D. Anderson
19.) "I write for those women who do not speak, for those who do not have a voice because they were so terrified, because we are taught to respect fear more than ourselves. We've been taught that silence would save us, but it won't." — Audre Lorde
20.) "Each time a woman stands up for herself, without knowing it possibly, without claiming it, she stands up for all women." — Maya Angelou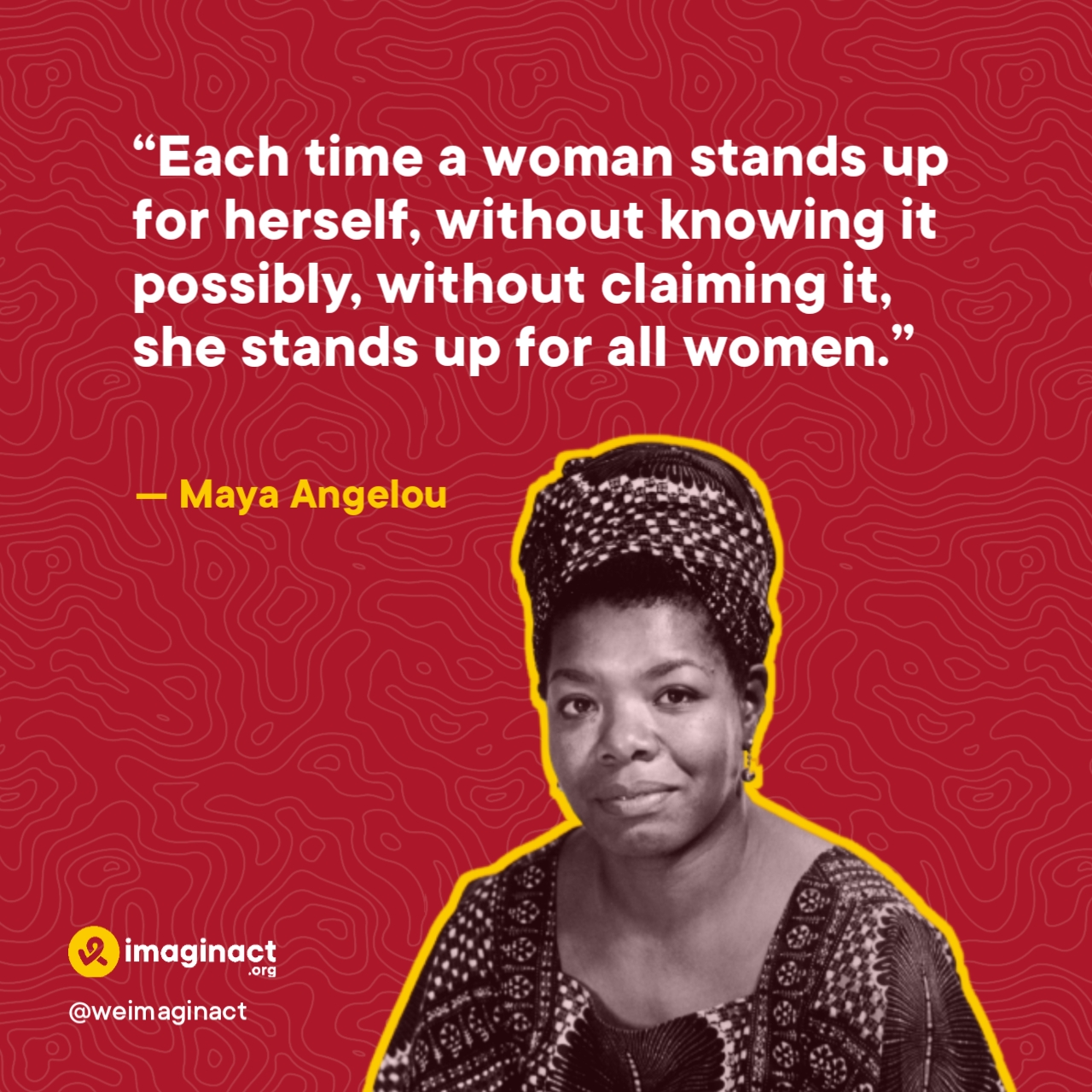 21.) I am not free while any woman is unfree, even when her shackles are very different from my own. – Audre Lorde
22.) When women do better, economies do better. – Christine Lagarde
23.) A feminist is anyone who recognizes the equality and full humanity of women and men. – Gloria Steinem
24.) Men of quality respect women's equality. – Jeremiah Say
25.)  "A gender-equal society would be one where the word 'gender' does not exist: where everyone can be themselves." — Gloria Steinem
26.) . "One child must never be set above another, even in casual conversation, not to mention in speeches that circle the globe." — Alice Walker
27.) Culture does not make people. People make culture. If it is true that the full humanity of women is not our culture, then we can and must make it our culture. – Chimamanda Ngozi Adichie
28.) Girls are weighed down by restrictions, boys with demands – two equally harmful disciplines. – Simone de Beauvoir
29.) "Freedom cannot be achieved unless women have been emancipated from all kinds of oppression." — Nelson Mandela
30.) "No country can every truly flourish if it stifles the potential of its women and deprives itself of the contribution of half its citizens." ― Michelle Obama
31.) "Investing in women is smart economics, and investing in girls, catching them upstream, is even smarter economics." ― Ngozi Okonjo-Iweala
32.) "It is time that we all see gender as a spectrum instead of two sets of opposing ideals." ― Emma Watson
33.) "Gender equality is more than a goal in itself. It is a precondition for meeting the challenge of reducing poverty, promoting sustainable development and building good governance." — Kofi Annan
We curated this list of quotes about gender equality from influential voices fighting for gender equality. If you have a wonderful quote about gender equality, kindly comment or contact us and we'll be glad to add your quote here. We really hope you find good use of these quotes about gender equality!
3 Posts
Isaac Somto
Isaac Somto is the founder of Imaginact, a nonprofit organization driving positive change. Somtochukwu is a Gen Z with broad interests in everything Africa, writing, social entrepreneurship, Graphic Designing, social change and more.